So. I had a hair cut! Not an easy decision, but the right one. My hair hasn't been that short for almost 20 years. Suddenly it is much easier choosing fabrics and patterns, to abandon the eternal black and even sometimes wearing lipstick. But that's not the only topic I'd like to talk about today. I had some serious thoughts about style and wardrobe I would like to share and ask your opinion and I'd like to present a pattern I really like: Seamwork Leonora, a skirt with button placket at the front and patch pockets as seen in the late 60s, early 70s (and in H&M). I changed it slightly so that the skirt got almost a faint 20s vibe, at least in shape, but it is still wearable without appearing overdressed.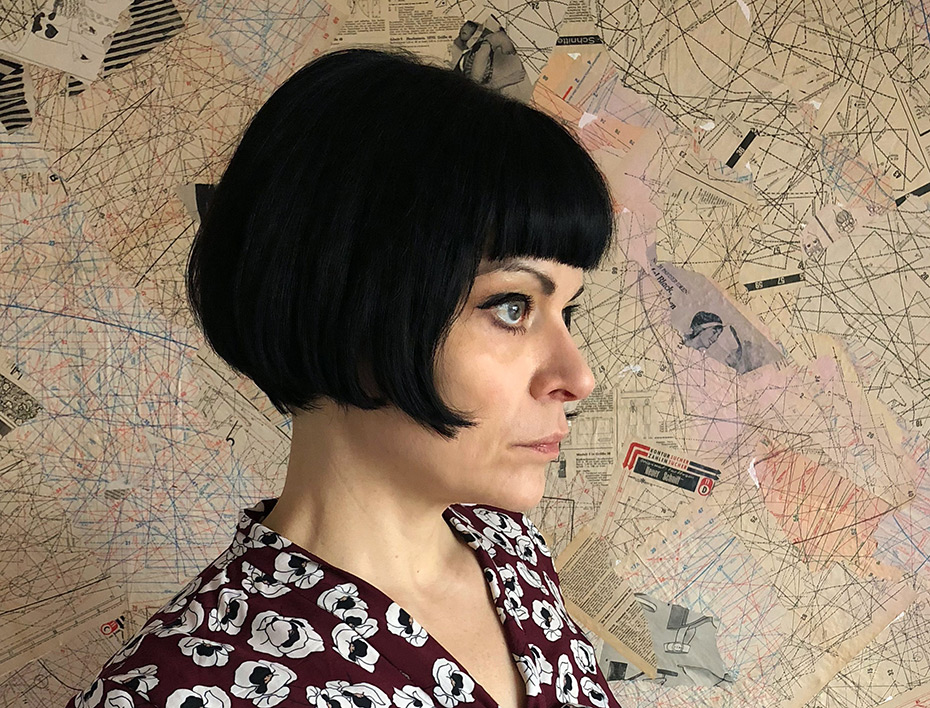 Thought on creating a wardrobe that I love
During Me-Made-May last year it became clear to me that I really wanted to change my style. I felt trapped in a style that started to suit me no longer. And I'm not talking about my age, I'm simply talking about my ego.
My problem aren't too many clothes but too many black clothes! Enough that I know every day exactly what I wear: Something black! It's about as dull as the idea of burdening myself to a minimalist wardrobe of neutral tones which is also known as Capsule Wardrobe. As I understand it the idea behind the Capsule is having only a few garments (some say 33, others are not so specific) to create loads of outfits in order for you always knowing what you wear.
Capsule Wardrobe, can we be friends?
Well, I don't want to say the idea of a Capsule Wardrobe is bad but if you browse the topic for a bit it seems to me you have to be a fan of Beige, um, I meant Taupe, and Mauve with the random bit of  light blue and dusky pink as a revolutionary aspect and well…, that's just not me!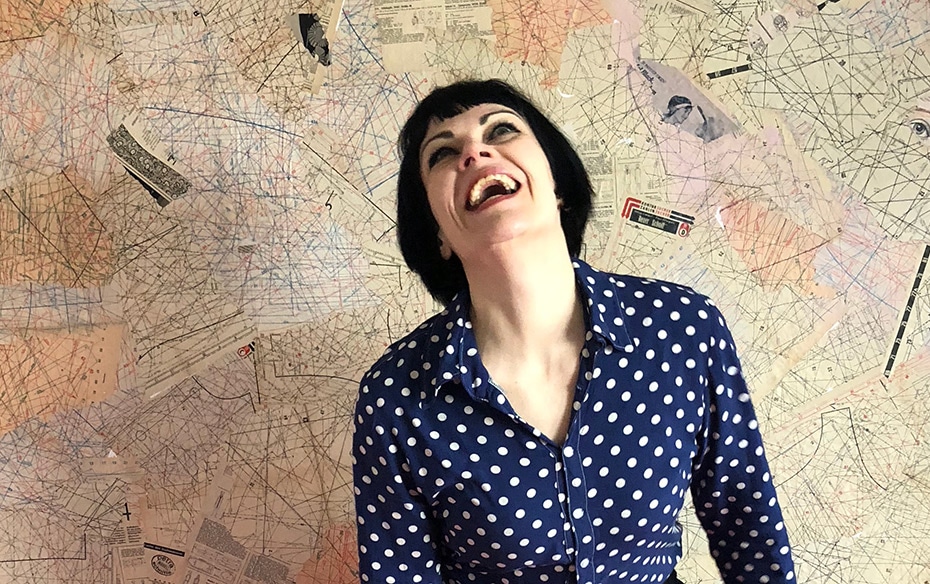 Nah, of course, it's up to us to decide what color and style to choose for our Capsule Wardrobe. It's all about having a system helping you make the right choice for potentially new garments, so that as a seamstress you don't produce masses of pieces you never wear (guilty!).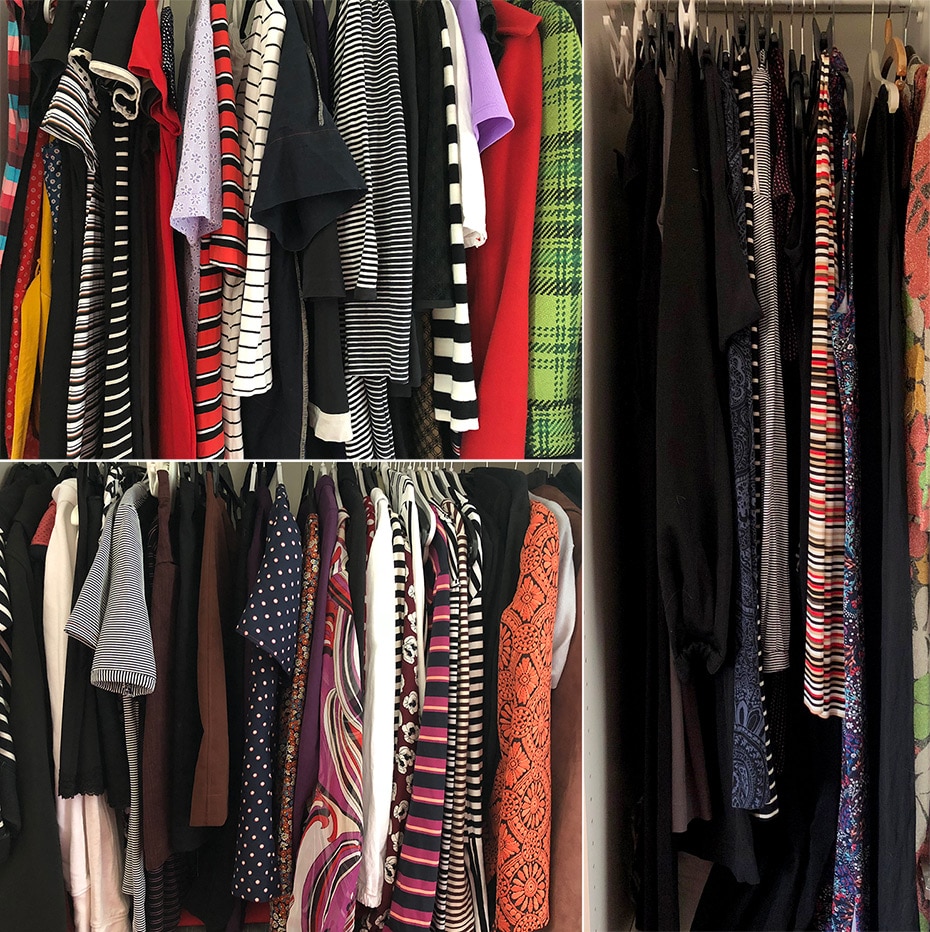 But well, let's see what else happens on my journey to the capsule of my uniqueness!
Seamwork Leonora, simply a great skirt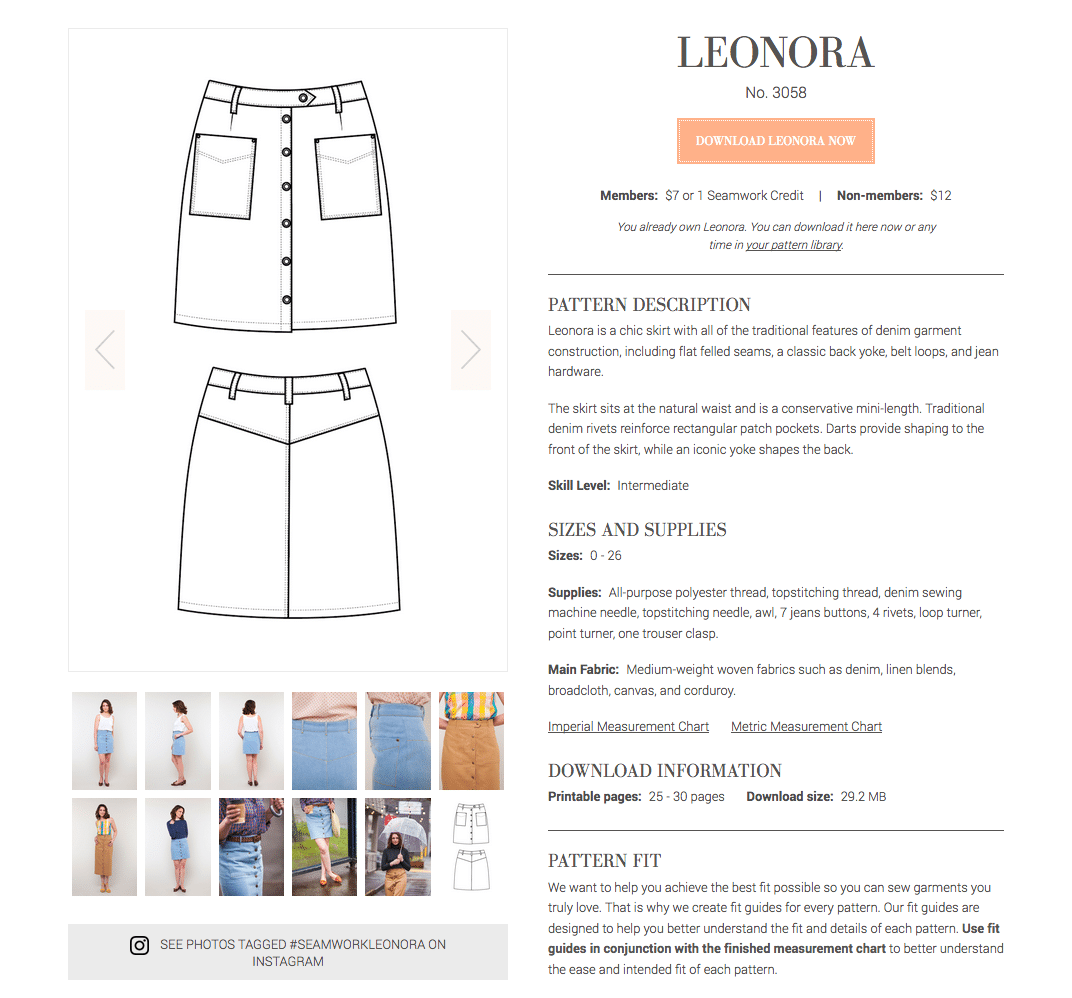 But let's go back to Seamwork Leonora (find the pattern here). That skirt made it into the top ten of my favourite patterns because of its simple but beautiful details.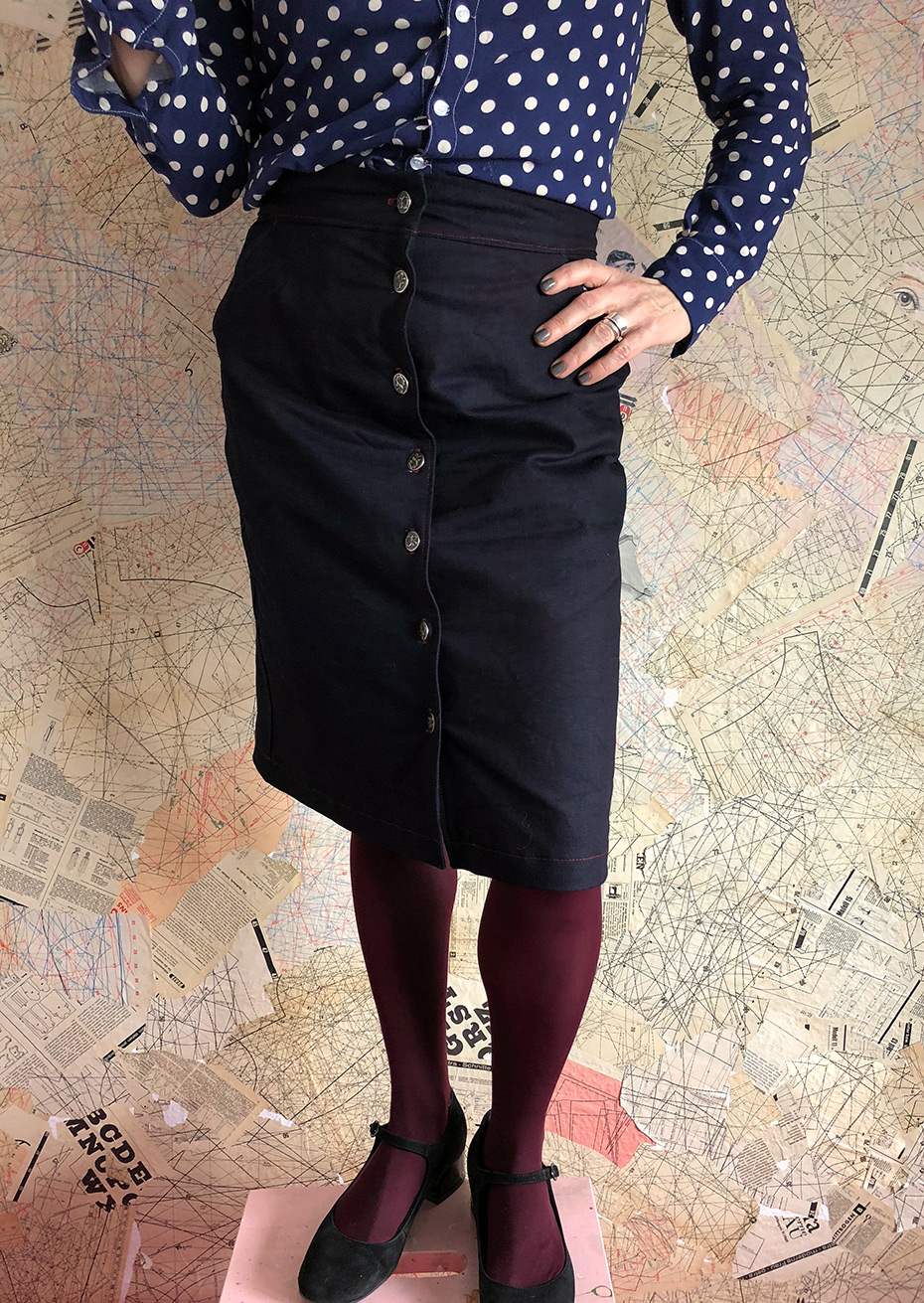 As you can see, I slightly altered the pattern. I have lengthened the skirt and replaced the patch pockets with slant pockets. Both changes are covered by Seamwork, find the slant pocket instructions here.
Wearing Seamwork Leonora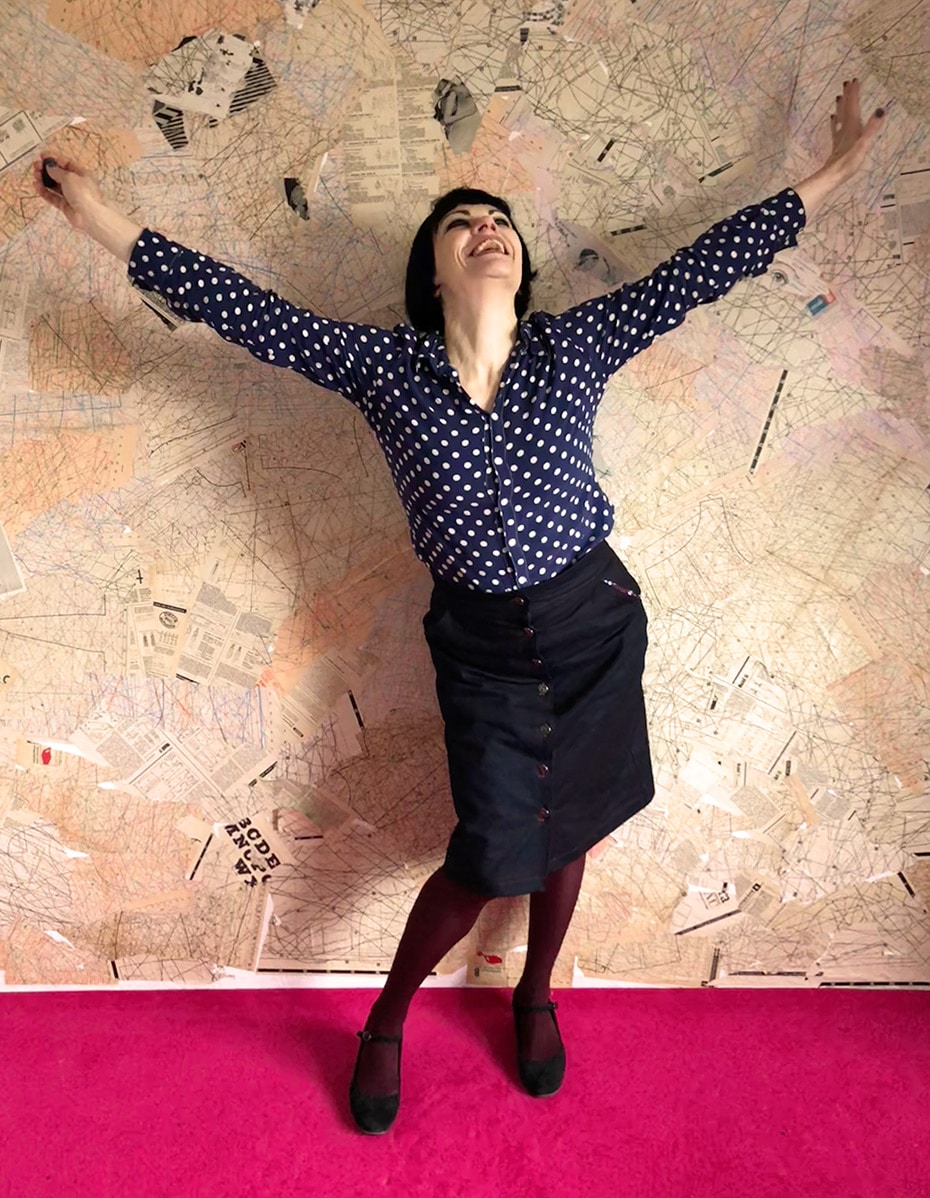 First up I'm wearing a Sewaholic Granville Shirt to a Seamwork Leonora made from dark blue denim. The Granville may look okay but actually was a fitting nightmare. I won't make another one!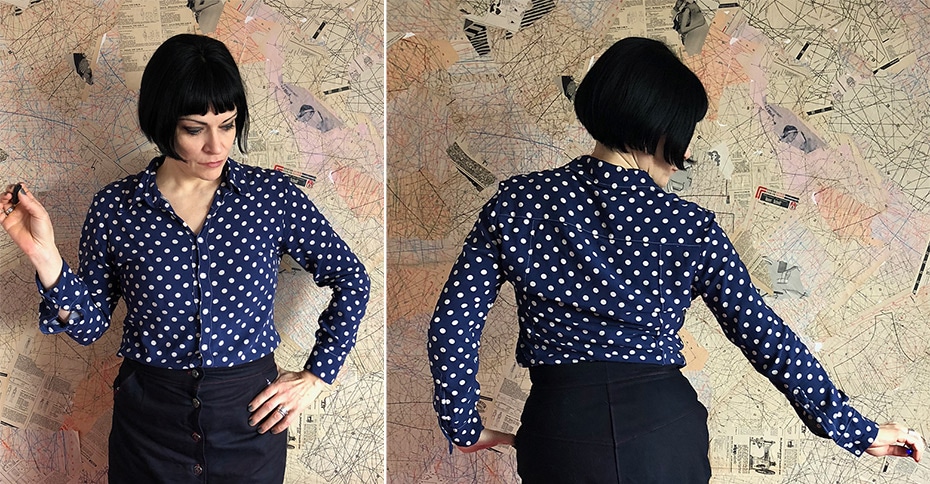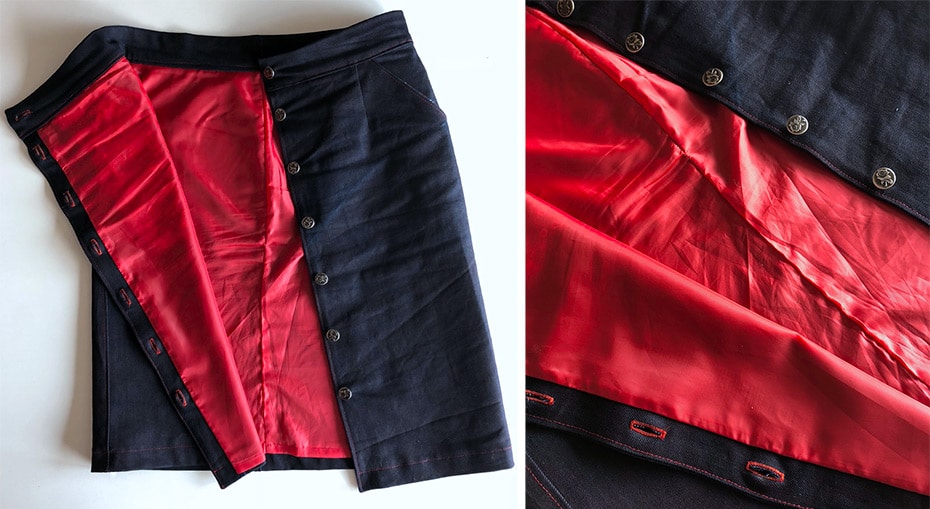 Another modification on my part was adding (red) lining. Seamwork doesn't provide any lining for the skirt, which I can't understand, because the narrow fit together with the recommended materials (jeans, cotton etc.) inspired the result to crawl up your legs while walking.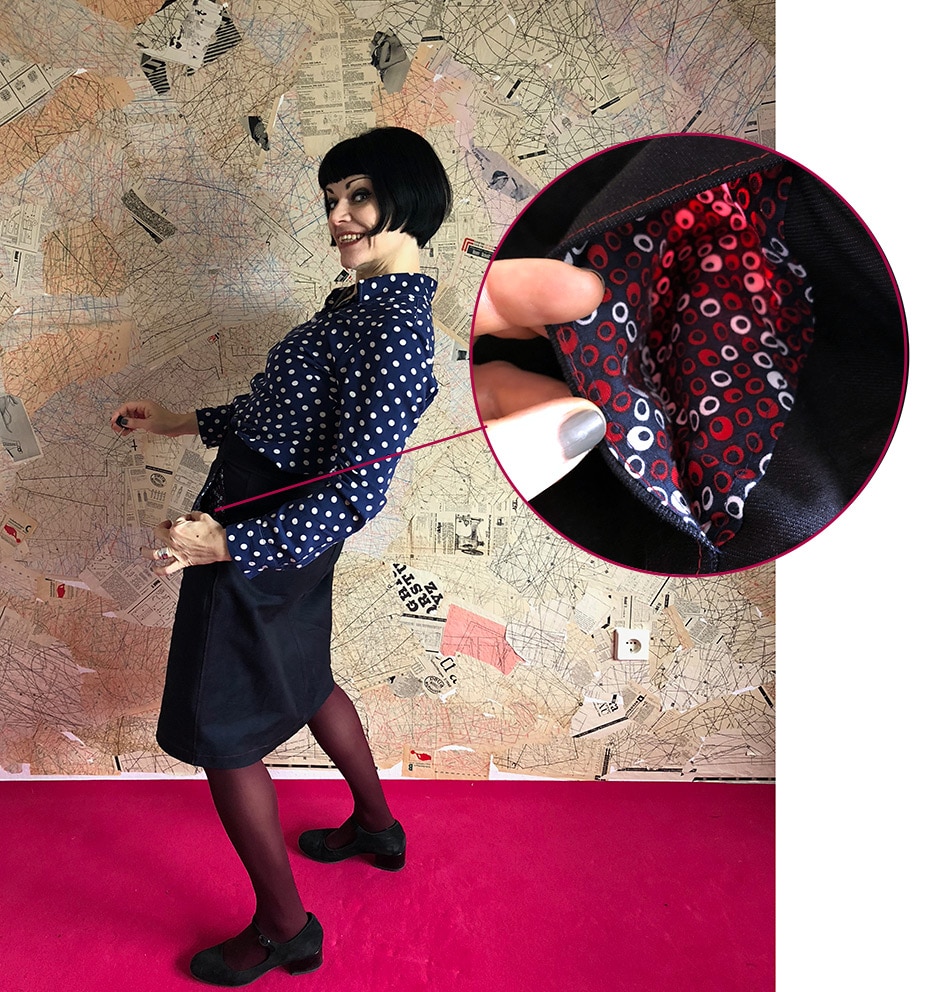 Another eye-catcher are the slant pockets of my denim Leonora. I thought it would be a good idea to show them openly and letting the colourful fabric flash. It's okay but I wouldn't do that again. It stops you from wearing the skirt to colors that aren't too happy in the red-white-blue range.
Another Seamwork Leonora in Fake Suede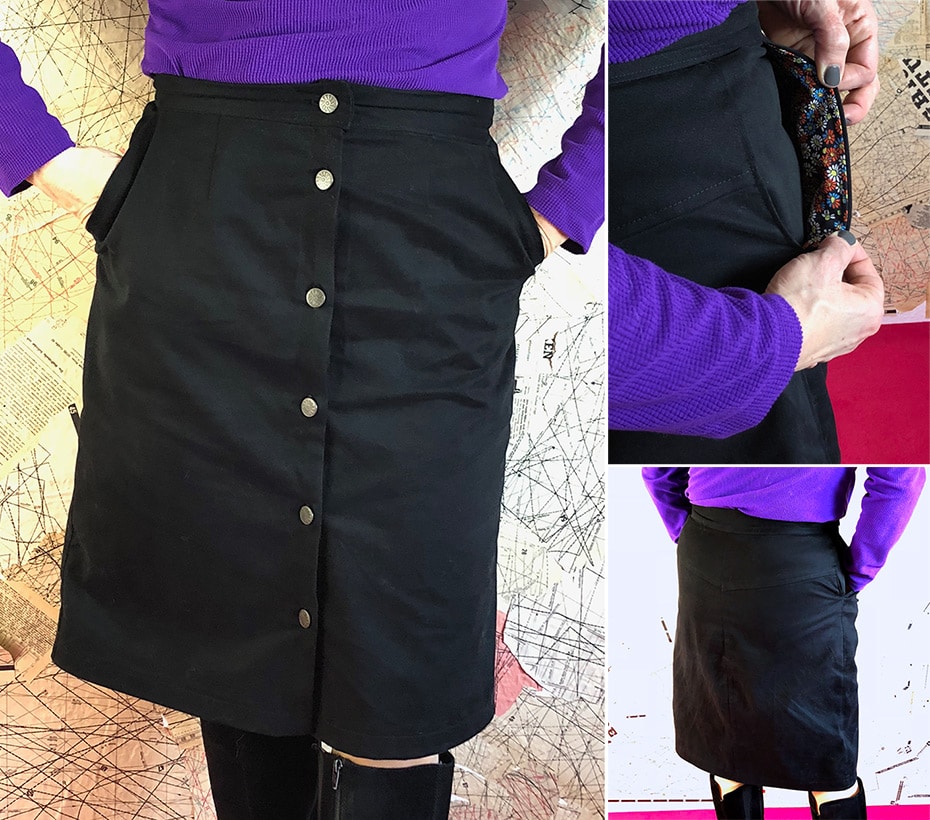 I couldn't avoid making a black Leonora for sure. Here I am wearing it with Coco by Tilly and the Buttons.
Here in Germany a lot of seamstresses say Tilly's patterns a too girly but not me. I think with a little imagination and fabrics of your choice you can easily make your own Coco, can't you? In my opinion Coco is one of the easiest and most versatile jersey top patterns on the market. I made a whole bunch of them already.
Did you ever try Leonora?